Town Branch Distillery⏤the first distillery to open in Lexington, Kentucky, since Prohibition⏤celebrates Derby Day with 13 variations of the Mint Julep developed by notable bartenders in locales throughout the U.S. As the official drink of the Kentucky Derby since 1939, the Mint Julep combines Bourbon, sugar and mint, served over crushed ice in a frosted silver or pewter cup and can be served up to 120,000 times during the annual race. Dubbed "Mint Julep Nation," the campaign pays homage to the classic cocktail using Town Branch Bourbon ($36.99 a 750-ml.). The select group of drinks-slingers includes renowned mixologists from cities across the country, such as Tony Abou Ganim aka The Modern Mixologist of Las Vegas; Deke Dunne of Allegory at the Eaton Hotel in Washington, D.C.; Brett Esler of Idle Hands in Austin, Texas; Sarah L.M. Mengoni of Historically Drinking in Los Angeles; and Lucinda Sterling of Middle Branch in New York City.
Comprising whiskies aged between 5 and 8 years and a mash bill of 72% corn, 15% barley and 13% rye, Town Branch Bourbon features a dry and spicy flavor profile, with notes of cherry, caramel and cinnamon, making it a versatile base spirit for drinks like the Mint Julep and another iconic cocktail, the Old Fashioned. Freddie Sarkis of the mixology education center Liquor Lab in Nashville, Tennessee, combined the two classics for his Julep Old Fashioned. His recipe calls for spearmint tea-infused Town Branch Bourbon, Demerara syrup and Angostura bitters.
"The Bourbon has a lot of spice so it adds a little bit of natural complexity to the drink," Sarkis explains. "The idea was to blend two fan favorites during this time of year, the Mint Julep and the Old Fashioned, in a way that's really easy to do at home and doesn't require a lot of extra prep." In fact, the only prep the recipe requires is steeping the tea bag in 2 ounces of Bourbon for 2 minutes. "By using a tea bag, you can infuse a small amount of product at a time, so you can save the rest of the bottle for your next cocktail," Sarkis adds.
Carley Gaskin of the cocktail consulting and events firm Hospitality 201 in Chicago took a similarly simple approach with her Back to the Track Julep, which mixes Town Branch Bourbon with honey, a grapefruit slice and fresh mint. She took inspiration from the Windy City's two extreme climates: bitter cold winters and hot, humid summers. "As Chicagoans, we drink and hang out year-round, even if it's negative 40 degrees," Gaskin says. "So I wanted to create something that you can enjoy on Derby Day and in January when there's 6 feet of snow." 
Like Sarkis, Gaskin notes that Town Branch Bourbon has some nice spice that makes it really stand out in cocktails without overwhelming the drink. "One of my favorite flavoring pairings is baking spices like cinnamon with grapefruit," Gaskin says. "Grapefruit has citrus notes and a little bit of bitterness so it works really well with this cocktail." 
Anthony Baker, aka "Professor Baker," who teaches an array of virtual and in-person cocktail classes in New York City, went a slightly different route. His Mint Chocolate Julep features Town Branch Bourbon, Tempus Fugit Crème de Cacao liqueur, Angostura Cocoa bitters and fresh mint. "I did a chocolate twist because people love mint chocolate ice cream," Baker explains. "So I added the crème de cacao with the fresh mint leaves, and boom, you have a mint chocolate ice cream flavor." The sweetness of the crème de cacao also marries nicely with the Bourbon's taste profile. "Town Branch really has a nice dryness to it," Baker notes.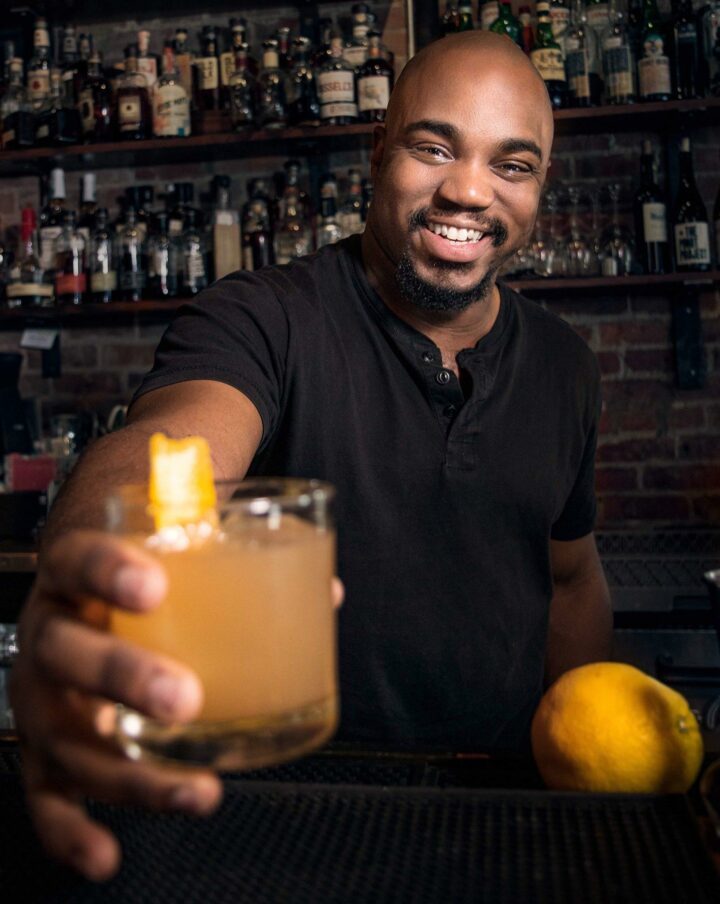 Sharfiq Cosby of craft cocktail bar Revival 1869 in Clayton, North Carolina, also added a touch of chocolate to his take on the Mint Julep, which he named Vital Roots. The recipe hearkens back to 19th-century bartender John Dabney, who despite being enslaved for more than half of his life was renowned among the Richmond, Virginia, elite for innovating the shaved ice technique that's used in the Mint Julep. Cosby's version comprises Town Branch Bourbon, Aperol liqueur, Bittermans Xocolatl Mole bitters, Demerara syrup, fine sugar, orange marmalade and fresh mint. 
"John Dabney originally used peach brandy instead of Bourbon and a bouquet of fruits as a garnish, but I wanted to keep it simple, so I just grabbed orange marmalade," Cosby says. "The chocolate mole bitters add some spice and smokiness, and the Aperol boosts that orange flavor with a little bit of bitterness." He used the fine sugar for texture and the Demerara syrup for boldness. "Town Branch is very refreshing, which I don't get in a lot of Bourbons," Cosby adds. "It also has this real grassy note as if it were a high-rye Bourbon." 
While many people may still be forced to toast the Kentucky Derby at home this year, at least they can do so with a locally inspired drink in hand.