The Utah Department of Alcoholic Beverage Services (DABS) continues strategizing to overcome significant challenges in a state where less than 45% of the adult population drinks. Despite pandemic-related store closures, as well as product and staff shortages, beverage alcohol revenue in Utah increased 3.4% to $517.39 million during fiscal 2021, according to DABS. "Supply chains are showing signs of improvement," says DABS executive director Tiffany Clason. "Last year at this time, our in-stock percentage was 92%; now we are trending more than 95%. Before the pandemic, in-stock was consistently above 97%. Our vendors are still facing glass, can, and truck driver shortages, among other obstacles, but trends seem to be improving."
Utah residents traded up in 2021. The average cost per bottle sold at state stores increased 11.3%, as closures of bars and restaurants contributed to consumers spending more at retail. Spirits volume in calendar 2021 increased 2.3% to 1.63 million 9-liter cases, according to the National Alcohol Beverage Control Association (NABCA) and Impact Databank. Revenue lost in Utah because of pandemic-related liquor store closures tallied $4.5 million in fiscal 2021, according to DABS. Nevertheless, from fiscal 2017 through fiscal 2021, the alcohol industry's annual compound growth rate was 4.8%. These developments are unfolding in a state where an estimated 55% of citizens are Mormons who abstain from alcohol consumption. 
Utah's beverage alcohol rules are strict compared to other control states. There is no online shopping, curbside pickup, cocktails or wine to-go from the on-premise, and no Sunday sales at state stores. Bartenders must use the Berg All-Bottle 704 liquor control system to measure 1.5 ounces of a cocktail's primary spirits into each drink. Overall, Utahans who drink beverage alcohol skew heavily toward spirits and wine consumption. Of total state beverage alcohol revenue in fiscal 2021, spirits made up 56% of sales and wine tallied 34%, while beer with an abv of 5% or higher comprised 5%, and flavored malt beverages equaled 1%. The remaining sales are from distilleries, wineries, and breweries with licenses to sell products for off-premise consumption. 
Under pressure from pandemic-related regulations, the on-premise accounted for 11%, or $55.27 million, of Utah's beverage alcohol sales in fiscal 2021, although the situation is improving. "On-premise businesses are showing signs of increased sales in 2022 compared to those in 2021," Clason says.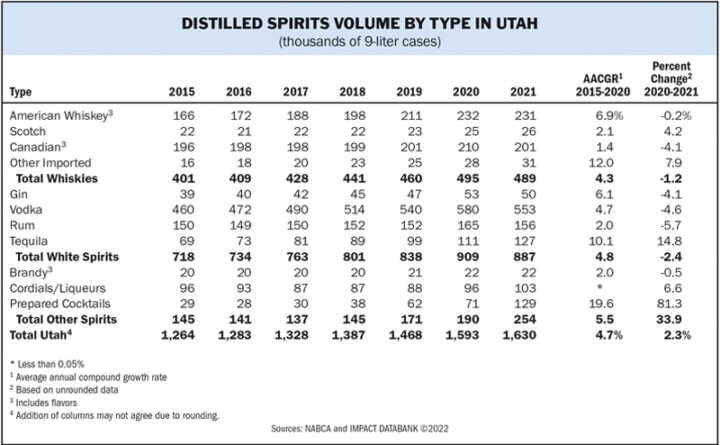 Strategic Plan
Since being appointed executive director of DABS in January 2021, Clason has taken significant steps to modernize the organization and improve customer service. Clason spearheaded the department's first-ever multi-year strategic plan to deal with major challenges, including employee retention, inventory and warehouse management, and technological infrastructure. Steady increases in sales have intensified these challenges. From 2010-2020, Utah had the fastest growing population rate nationwide at 18.4% to 3.27 million people, according to the United States Census. The state currently has one warehouse based in Salt Lake City to process, store, and deliver 6,000 spirits, wine, and beer products to 50 retail stores statewide. The warehouse receives and ships up to 12,000 cases of beverage alcohol every day and won't be able to handle anticipated increased demands. 
DABS is working with the Utah Legislature and Governor's Office for Technological Advancements to secure funding for a new additional warehouse. "We are working with the state of Utah's Facilities and Construction Management Department to conduct a feasibility study and determine projected costs," Clason says. "The new facility would be located near the existing warehouse, is proposed to be about 230,000 square feet, and will require 20-30 additional staff once operational." 
In addition, Clason is looking to upgrade the inventory management system to provide item-specific settings, as well as increase the department's technology support staff. Most of the operations work through a paper system and sometimes require licensees to drive to Salt Lake City to file applications. Many of the retail stores don't have WiFi or modern business technology. DABS has staffing issues primarily with its purchasing department and the state-run stores. The strategic plan outlines strategies to attract and retain employees, including in-depth training for supervisors and a market analysis to determine necessary pay rates and benefits. 
In fiscal 2021, DABS switched from a third-party training portal for retail employees to its own training portal. Product knowledge training for retail employees to improve customer service was increased from a couple broad-based courses to several 15-minute micro-courses with more detailed information on product categories. Spirits' curriculum includes 17 courses; wine has 25 courses, and beer has 20. In all, DABS employs between 630 and 700 workers depending on the time of year, with an additional 60 administrative employees. Depending on the time of year, the warehouse employs 55 to 65, and retail stores employ 450 to 570.
Tito's Takes Charge
Utahans are trading up as dollar sales gains outpace volume gains. Spirits' sales grew about 5% in fiscal 2022 year-to-date on a volume gain of 4%. The top-four spirits brands in Utah in 2021 were all vodkas. No. 3 Tito's ($19 a 750-ml.) posted the highest growth rate at 20.9% to 53,000 cases. If trends continue, Tito's will be No. 1 in Utah in volume and value by the end of 2023. Pre-mixed cocktail Monaco from Atomic Brands took the No. 5 spot, while No. 6 Crown Royal ($30) recorded the second-highest growth rate at 5.8% to 42,000 cases, No. 2 Smirnoff ($16) advanced 2.9% to 56,000 cases and No. 1 Barton ($5) decreased 10.4% to 82,000 cases. No. 4 Taaka ($5) was down 13.1% to 48,000 cases. While Tito's was No. 3 by volume in 2021, it is easily the state's dollar sales leader, followed by Barton's vodka and Patrón Silver Tequila ($51). 
Across all spirits, Tequila and spirits-based RTDs are the growth leaders in Utah. Ranked fifth by segment volume, prepared cocktails posted the highest growth rate in 2021 at 81.3% to 129,000 cases. Posting the second highest growth rate, No. 6 Tequila advanced 14.8% to 127,000 cases. Vodka dominated market share with a volume of 553,000 cases. The category decreased 4.6% last year but still has a volume more than twice its nearest competitor. American whiskey decreased less than 1% to 231,000 cases and ranks as the second largest spirits category in Utah. Canadian whisky fell 4.1% to 201,000 cases, ranking third, while No. 4 rum decreased 5.7% to 156,000 cases. Utah also has a bustling micro-distillery industry with three such spirits brands achieving sales of more than $1 million in fiscal 2021—High West Double Rye whiskey ($38 a 750-ml.), High West Bourbon ($38), and Dented Brick Craft vodka ($19 a 1-liter). 
Wine dollar sales in Utah increased about 6.2% on a volume increase slightly less than 1% year-to-date for fiscal 2022. The top-three selling wine brands in Utah in fiscal 2021 were La Marca Prosecco ($18 a 750-ml.), Meiomi Pinot Noir ($21), and Black Box Cabernet Sauvignon ($19 a 3-liter box). No. 4 Veuve Clicquot Yellow Label ($63 a 750-ml.), and No. 5 Bota Box Pinot Grigio ($22) rounded out the top five wine brands by sales. Domestic U.S. wines represent 73%, or $126.7 million, of total wine sales in Utah. Wines from Italy registered approximately $16.7 million in sales, or 9.6% of the total, and were the No. 2 selling wine region in the state, while wines from France posted sales of $5.97 million and ranked third with a 3.44% share. New Zealand wines ($4.3 million/2.46% share) and Argentina wines ($3.61 million/2% share) round out the top-five wine regions in the Beehive State. 
When it comes to beer in Utah, local brands excel. The top-three selling beer brands sold at state stores are Natty Daddy ($1 a 12-ounce can), Squatters Hop Double IPA ($4 a 750-ml.), and Squatters Hop Rising Tropical IPA ($2 a 12-ounce can). Red Rock Elephino IPA ($3.50 a 16-ounce can) and Uinta Detour Double IPA ($3 a 12-ounce can) round out the top-five selling beers in Utah. Seven of the ten top-selling beers in Utah are IPAs. 
Until June 2021, there were no beer coolers in any of Utah's state-run package stores. A 13,000-square-foot store that opened in Taylorsville last June, however, became the first state store to sell cold beverages, boasting ten coolers filled with beer, hard seltzers, and flavored malt beverages. Five stores have since installed coolers and two additional stores were slated to have coolers installed soon. All new stores will include coolers and existing stores are being retrofitted to add them as funding becomes available, although no timeline exists.
Retail Landscape
Current listed products in Utah's state-run beverage alcohol stores vary based on store size and location. While the average state store is about 8,500 square feet, stores range in size from a high of nearly 15,000 square feet to a small 2,500 square feet. Although DABS added 278 new items last year, more than 900 items were delisted because of low sales, manufacturer discontinuation, vintage closeouts on wine, and product availability. 
"The listed universe of products is more than 4,600," Clason says. "Customers also have the ability to special order products of 10,000 plus items. Most stores carry near 3,000 products." Retail prices for a 750-ml. of spirits range from $5 for a bottle of Barton or Taaka vodka to $4,350 for a bottle of Rémy Martin Louis XIII Cognac. Wine prices range from $5 a 750-ml. for the 2020 Crow Canyon Cabernet Sauvignon to $1,694 for the 2015 Château Lafite Rothschild. 
The off-premise represented 89% of beverage alcohol sales in Utah, or $462.21 million, in fiscal 2021. The average spending ring per customer at a state store is $45. Posting 11.8% sales growth, or approximately $2.18 million, to $20.62 million, the state's Park City Snow Creek store became Utah's sales leader in fiscal 2021. Sales at No.-2 store Cottonwood Heights decreased 0.5% to $20.6 million but was the only other store with sales that totaled more than $20 million. While DABS isn't allowed to promote or advertise alcoholic beverages sold in state liquor stores, Twitter is the most active social media channel local industry professionals use to share information, such as sharing product availability updates. 
The top ten state stores have sales of at least $12.74 million and DABS has been improving retail outlets with informative and educational signage. "DABS has a robust in-store sign program that includes information about wines and their scores as ranked by wine scoring programs," Clason says. 
Despite its challenges and limitations, the beverage alcohol industry in Utah has significant potential. With DABS's strategic plan being implemented, Utah's beverage alcohol industry appears poised for long-term growth.