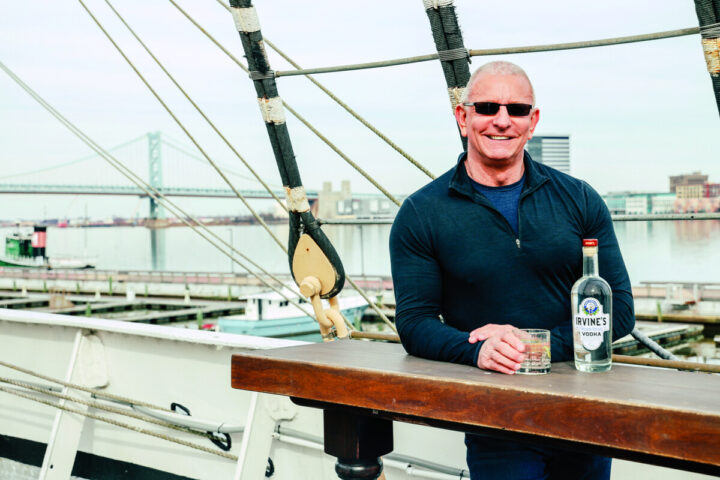 Tony Abu-Ganim wants to "bring sexy back" to vodka. The industry icon and master mixologist at Libertine Social in Las Vegas acknowledges vodka remains hugely popular in bars and restaurants around the country, yet he says it often doesn't carry the prestige of more trendy white spirits like Tequila and gin. 
"I think it's one of the sexiest spirits," says Abu-Ganim, but he notes the challenges vodka has faced in gaining credibility among bar professionals. All use vodka liberally in their cocktails, but many don't treat it with the reverence they afford gin or Tequila or whisk(e)y. The resurgence of classic cocktails has brought gin and whisk(e)y front and center, but vodka remains a huge category with widespread demand among consumers. 
Thomas Mizuno-Moore, senior beverage manager for Lettuce Entertain You Enterprises, acknowledges the image-versus-reality challenge. "People drink a lot of vodka, don't get me wrong, but I don't see the category as necessarily dynamic," he says.  "It's fairly steady and stable just in terms of things being ordered. Tito's is No. 1, it's not even close. We always want to have some diversity, but we probably could get away with only carrying Tito's, it's that much in first place." 
Sexy or not, vodka consumption in the United States continues to expand in spite of competing growth from other spirits. In the first two decades of the 2000s, vodka consumption doubled to more than 80 million cases, and growth has continued since then, according to Impact Databank. "As we kick off 2023, vodka remains one of the top-selling spirits on the market and still holds market share as the preferred on-premise cocktail base," says Campari America's senior category marketing director Sean Yelle. Campari markets Skyy vodka.
Hannah Venhoff, vice president of Deep Eddy vodka at Heaven Hill Brands, also notes the extraordinary staying power of vodka. "Despite all the growth and excitement with some of the really hot categories like Tequila or Bourbon, vodka has been able to maintain its number one position in terms of spirit category," she says. 
Fun, Mixability, And Variety
Deep Eddy, which offers a standard vodka along with a range of flavored extensions, is focusing on the good times that can come along with vodka consumption. "There's a lot of seriousness happening in spirits today," Venhoff says. "Vodka is uniquely positioned to remind consumers that drinking is about fun. It's about being with your friends and your family and carefree good times. We have an opportunity to uplift the category from that perspective, and our brand really leans into that in an authentic way." 
Mixability is also at the core of vodka's popularity. While one of the top drink requests in many bars is a simple Vodka Soda, the neutral flavor of vodka provides a base for some amazing cocktail creations. At Williams & Graham in Denver, owner and master mixologist Sean Kenyon says vodka is crucial at his bar. "I've always seen vodka as an incredible building block, a foundation for creativity," he says. "I look for flavor in my vodka; not factory-added like in flavored vodkas, but body and viscosity." 
Kenyon says consumers are more in tune with the quality of ingredients in vodka than they were in the past, and are also seeking brands with sustainable practices and philanthropy efforts. "We're seeing a push toward craft and local brands, like Woody Creek right next to the Grey Goose, Ketel One, and Tito's of the world," he adds. 
In fact, Kenyon is excited about some of the new entrants that continue to flood the market. "People are seeking out vodkas made in an Old World sense, not those that are overly distilled and neutralized," he says. "There's an Irish vodka called Kalak that's made from malted barley and is incredibly innovative. Two Japanese vodkas—Haku vodka made from rice and Nikka Coffey vodka made with corn and barley—are extremely interesting. Hanson's vodka made from Sonoma grapes is a unique expression. And Woody Creek vodka is farm-to-bottle and made with Rio Grande potatoes. It's full flavored and has an incredible mouthfeel. All of these brands are changing the world's perception about vodka." 
Some of those brands are used in signature cocktails at Williams & Graham. The Martini Americano ($14), for example, is made with Woody Creek vodka, Cocchi Americano vermouth, and Regan's Orange bitters; while The Garden Party ($12) mixes Hanson's Sonoma vodka, house-made cucumber syrup, fresh lemon juice, Scrappy's Celery bitters, basil, and soda water.
David Matthews, master distiller at Woody Creek Distillers in Basalt, Colorado, believes the traction he's getting for Woody Creek vodka ($35 a 750-ml.) is due to the unique potato base. "Among available potato vodkas, we're further differentiated by using the specific Rio Grande potato variety as opposed to sourcing whatever potato variety is available in the market," he says. The brand has also received a boost from actor William H. Macy, who Matthews describes as a "neighbor, partner, and company spokesdude." 
Celebrity chef and author Robert Irvine entered the mix last year with the launch of Irvine's vodka ($20 a 750-ml). The brand is currently available in about a dozen states, and Irvine says expansion is underway. The host of "Restaurant Impossible" on Food Network, Irvine says his celebrity status isn't celebrated. "I didn't just put my name on any brand, these are authentic spirits that I created," he says referencing both his vodka and gin. "With my expertise and experience in the kitchen, I developed Irvine's vodka and Irvine's gin specifically to pair with food. We call our spirits 'chef curated' because they truly are meant to be enjoyed as part of the meal."
Uniquely Focused
Part of the reason Irvine's is gaining traction, he says, is not just because of its quality ingredients and excellent taste, but because a portion of the sale of every bottle benefits The Robert Irvine Foundation, which supports military families, veterans, and first responders. In fact, many new or developing vodkas are attempting to differentiate themselves with an attribute that sets them apart. Tom of Finland Organic vodka ($37 a 750-ml.), for example, specifically targets the gay community. 
"Vodka is such a competitive category, finding a true point of differentiation for the consumer can be exceptionally difficult," says Umberto Luchini, founder of Eugene, Oregon-based Wolf Spirit, which imports Tom of Finland. "Rather than going head-to-head with the category leaders, our strategy is to carve out a profitable segment by hyper-targeting the LGBTQ consumer with a brand that resonates with them all year long— not just during Pride Month. Tom of Finland was a famous artist from the 1970s and '80s whose work still influences pop culture today, creating an incredibly recognizable and relevant trademark, particularly for the gay community." 
Dixie vodka ($17 a 750-ml.) is zeroing in on the South, and more specifically the Southeast, and leveraging its South Carolina roots in the process. "Within our home region, which is where we are hyper-focused, nothing represents the South like Dixie," says Matti Christian Anttila, founder of Grain & Barrel Spirits. "By leaning into our home region we've been able to really resonate with consumers looking to buy closer to home, which has allowed us to differentiate ourselves in the category." 
Differentiation isn't just limited to the niche brands. Campari's Skyy vodka, for example, recently reformulated its offering. "Ever since the new reformulated liquid launched in 2021, we continue to educate consumers [about it]," says Yelle. "It's rare to see a vodka brand add something back into the product to impact the flavor profile, but that's exactly what we did. The addition of water enriched by pacific minerals brings an added freshness to our vodka, and we want to highlight that to consumers as we show up in locally relevant ways across the country throughout the year."
Heavy Hitters
Often, differentiation may be helpful in a market crowded with mega-brands that have, in many cases, dominated for years. These niche brands can be inspired by Tito's, which in 2010 was a regional vodka with limited distribution but by 2020 was the No.-1 brand in the United States with more than 10 million cases. Tito's dominance continues into 2023. "Tito's is a beast," Anttila of Dixie says. "It opened the door for domestic brands." 
Tito's huge success led to it unseat Smirnoff, the longtime vodka category leader. Diageo's Smirnoff is now firmly in the No.-2 position. New Amsterdam, Burnett's, and Platinum 7X round out the top five among domestic brands, according to Impact Databank. Among imported brands, Svedka led the pack in 2022, followed by Absolut, Grey Goose, Ketel One, and Pinnacle. 
While imported and domestic brands gained volume in 2021, buoyed by the growing demand from consumers for easy-to-make cocktails at home, both segments lost volume in 2022. But marketers continue to express confidence in vodka. "We know our sales have jumped significantly since the beginning of the pandemic," says Aleco Azqueta, vice president of marketing for Bacardi, which owns Grey Goose.  "As we move further into a post-pandemic world, we know that the demand for vodka will continue to rise." 
Smirnoff vodka North American brand leader Jennifer Holiday Hudson also expressed confidence in future growth, and says the brand is well positioned amidst the current economic uncertainty. "As consumers spend more cautiously in our current economic climate, Smirnoff is an iconic quality vodka at an accessible price point versus competitors, making Smirnoff the winning option for everyone," she says.
Flavor Reliance
Despite some consumer and trade pushback on flavors in recent years—due mainly to the volume of flavors available—several vodka brands remain committed to the sector, although perhaps in a more measured way than in the past. Deep Eddy vodka was launched several years ago with a Sweet Tea flavor rather than a standard vodka. Now, Venhoff says, the original unflavored Deep Eddy is growing faster than flavors, but flavors remain core to the business. 
"I think that it's fair to say that we'll introduce more new flavors along the way," says Venhoff. "For us it's the right portfolio of flavors. Our citrus flavors—lemon, ruby, and now lime—have  really dominated for us. " 
Smirnoff is also leveraging flavored vodkas, the latest being Smirnoff Blue Raspberry Lemonade vodka, which launched in February. The Blue Raspberry is the latest in a series of lemonade flavors, including Pink and Peach, which Holiday Hudson says tap into flavors "that consumers know and trust." 
Smirnoff has also seen success recently with Smirnoff Spicy Tamarind, which was originally available in Mexico, Holiday Hudson says. "The flavor showcases the versatility of our spirit in ways that consumers are really connecting with when it comes to the sweetness of tamarind candy with a hint of spice," she says. 
Many of these vodka brands have also launched vodka-based RTDs in a variety of flavors in recent years. Venhoff notes that the full-strength flavored vodkas provide a bridge to RTD drinkers as they make their way into the full-strength vodka market.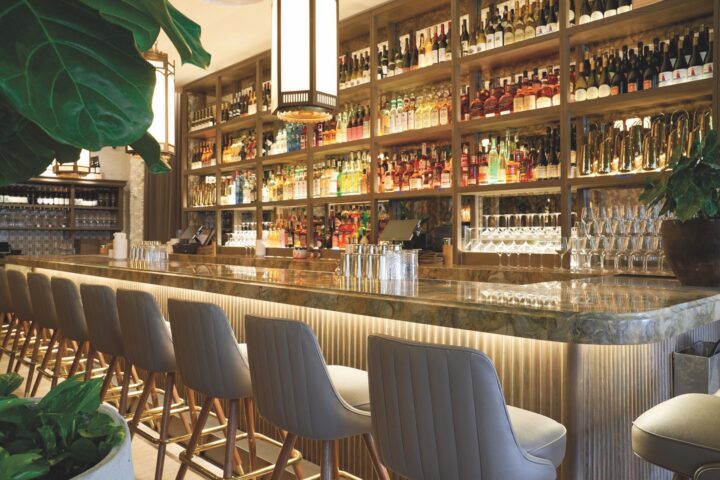 Flavored vodkas haven't made the leap into the on-premise in a big way, with a few exceptions. Many bartenders prefer to start with the straight spirit and add flavor when building a cocktail. Mizuno-Moore, for example, has tried some of the vodkas flavored with botanicals in the bars of Lettuce Entertain You restaurants, with limited success. "We appreciate that effort but we don't get guests asking for it and so it hasn't penetrated to the guest," he says. Cocktails featuring such flavored vodkas get some traction, but "it hasn't translated to the guest calling" for those brands on subsequent visits. 
Instead, Mizuno-Moore prefers to create his own infused vodkas when appropriate. At Aba Restaurant, the Harissa Bloody Mary ($13) is made with house chili-infused Basic vodka, house harissa, and pickles; while the Mediterranean Mule ($14) is made with house rosemary- and lime-infused Basic vodka, Appel's Horchata, Galliano, ginger, and lime. 
The vodka segment is clearly evolving, both in flavors and with the core spirit. Though brands will shift in popularity and new approaches will upend the status quo, one near certainty is that vodka will continue to drive a large share of the spirits business in the U.S. As Kenyon puts it, "Vodka is a top selling spirit globally, and to ignore that is ridiculous."