Whether bitter or sweet, sharp or smooth, the wide flavor range of products that fall under the cordials and liqueurs umbrella can transform cocktails or, in some cases, be consumed on their own. "Coming out of Covid-19 lockdowns, everybody had experimented with cocktails at home, creating their own cocktails and exploring new flavors," says Brett Dunne, managing director of the United States and Canada for Lucas Bols. "We've seen that continue over the last 18 months as the on-premise returns." 
Annie Borgerding, director of marketing for Brooklyn-based Back Bar Project, which imports the Giffard liqueur line, says Giffard also received a pandemic bump that has yet to subside. "Ever since the pandemic, everything has been going well," she says. "Our sales are through the roof this year." 
Standouts in the Giffard line include grapefruit-flavored Giffard Pamplemousse ($25 a 750-ml.) and Banane du Brésil ($32), a banana liqueur popular in tiki-style drinks. Borgerding also notes the current consumer demand for spicy cocktails and non-alcoholic cocktails, and Giffard's offerings in those spaces. Giffard recently launched Piment d'Espelette ($32), a chili liqueur, to answer the demand for spice, and is also pushing its zero-alcohol line of mixers. 
In the Lucas Bols portfolio, the flavors that currently resonate with consumers vary. "We're seeing our Galiano Espresso liqueur really fly because of the popularity of the Espresso Martini," Dunne says. "Passionfruit continues to be an emerging flavor, and Passoã Passionfruit liqueur has seen tremendous growth the last couple of years for us. And within Bols Liqueurs, a lot of the traditional flavors that had kind of waned in popularity have started to reemerge, whether it's Blue Curaçao, Watermelon, or Strawberry. They've really started to take off the last few years." 
Brian Radics, CMO for Hotaling & Co., which imports Luxardo Liqueurs, agrees that the rise of the at-home cocktail during the pandemic was a boon to the liqueurs sector. Within that, the Luxardo brand is thriving, he says, noting that the longtime trend toward classic cocktails has benefited Luxardo. "People are looking to find their brand and the cocktail for them," Radics notes. "A lot of the self-introspection that happened during Covid kind of pushed that trend forward." 
Luxardo Maraschino ($40 a 750-ml.) is the largest flavor within the line, and is growing fast, Radics says. In addition, "Our Luxardo Aperitivo is growing at about 60% and our Bitter Bianco and Bitter Rosso are growing between 50% and 80% because those are inputs into Italian cocktails like Spritzes and Negronis. As these classic Italian cocktails are on the rise, Luxardo is helping drive that." The Luxardo Aperitivo, Bitter Bianco, and Bitter Rosso all retail for $30 a 750-ml. 
Luxardo recently expanded its flavor line with September's launch of Luxardo Antico, a cherry vermouth ($30 a 750-ml.). That was followed by Luxardo Espresso ($25) this month to capitalize on the growing demand for Espresso Martinis, particularly in the on-premise.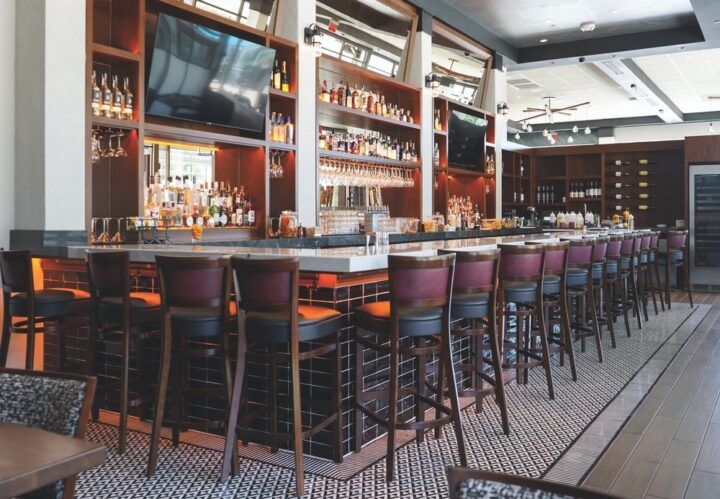 Trending Up
Cream liqueurs are also capitalizing on the coffee flavor trend. Baileys Irish Cream ($25 a 750-ml.), a blend of Irish cream and Irish whiskey and spirits, is the second largest liqueur brand in the U.S. and has been on the growth path in recent years. It too has jumped into the espresso fray with the launch earlier this year of Baileys Espresso Crème ($26), a coffee and chocolate blend. 
Baileys has relied heavily on flavors to complement the core brand, with six unique flavor options available. The Diageo-owned portfolio also mixes it up with limited-time offers. Earlier this year, for example, Baileys S'mores ($25 a 750-ml.)— combining the flavors of toasted marshmallows, graham cracker, and chocolate—hit the market in a limited release. 
"We're always looking to innovate and provide new products, flavors, and serves that appeal to adult treaters," says Stacey Cunningham, brand director for Baileys and liqueurs at Diageo North America. In fact, "adult treating" is now part of the Baileys proposition. "As dessert and treating trends have gained popularity and appear to be here to stay, we'll continue with these efforts to drive home that Baileys is the ultimate go-to indulgence when you feel the need to treat yourself," she adds. And to target the more calorie-conscious crowd, Baileys has also added Baileys Deliciously Light to its permanent range, made with 40% less sugar and 40% fewer calories than the original. 
Baileys isn't the only brand focused on flavors. Rival brand Kahlúa, a coffee cream liqueur, also offers six flavor extensions, including a Blonde Roast Style coffee flavor ($22 a 750-ml.) and Kahlúa Especial ($29), an espresso-style product. And Carolans, another Irish cream liqueur, offers a Cold Brew coffee-flavored extension ($20) as well as a Salted Caramel flavor ($20). 
Those three brands, each of which ranked among the top ten liqueurs in the U.S. in 2021, all gained volume last year. The most dynamic leading cream liquor, however, was RumChata ($17 a 750-ml.), a rum, spice, and cream concoction that has grown swiftly since its launch a dozen years ago. RumChata, which was acquired by E. & J. Gallo in 2021, grew 15.5% last year to reach 635,000 cases, according to Impact Databank. The much larger Baileys advanced 2% to 1.55 million cases. 
The fastest growth among leading brands in 2021, however, came not from the cream sector but from two orange liqueurs that continue to make inroads—especially as ingredients in Margaritas and numerous other cocktails. Grand Marnier, a blend of Cognac and orange liqueur, grew more than 15% to 625,000 cases in 2021. Cointreau increased just over 20% to 418,000 cases. 
The DeKuyper line that includes more than a dozen individual flavors remained the largest liqueur brand in the U.S. in 2021 at 2.1 million cases, a 9.7% increase. Third-ranked Jägermeister also fared well, with volume rising 13% to 1.3 million cases. In fact, each of the top ten cordial and liqueur brands gained volume in 2021, and the ten together combined for an 8.8% increase to 9.1 million cases.
On-Premise Enthusiasm
Part of what is driving liqueurs' volume advancement is a new-found enthusiasm in bars and restaurants. Liqueurs have always been a staple, but some brands are making traction in ways they weren't before. Borgerding, for example, says market conditions haven't slowed the Giffard brand in the on-premise. 
"We've only seen gas on the pedal," she says. "Even though the on-premise isn't back fully—many venues have shorter hours or limited menus—that hasn't been shown in our sales. It's only been more and more." Giffard's slogan is "The Art of Flavor," she notes, and in a period during which many establishments are streamlining their bar operations, "they can proudly list Giffard as an ingredient on their cocktail menus." 
Dunne reports similar success for the Bols line, and says some bars and restaurants are moving away from labor-heavy approaches adopted over the past decade, a move that benefits the bottled liqueurs sector. "There were these huge bar programs with syrups and purées and bartenders creating their own tinctures, that sort of stuff," Dunne says. "I think now we're seeing a lot of operators start to streamline their beverage programs to be more cost conscious and also to offer a more streamlined beverage program to their consumers. That's something that has helped accelerate our growth." 
Of course, with most on-premise establishments shut down or sharply reduced during the Covid-19 pandemic, the growth he says. "We use liqueurs to add depth and flair to our cocktails. Using Luxardo Maraschino as a sweetener, in conjunction with sugar, can be a fantastic way to add complexity to an Old Fashioned. Averna can transform a Manhattan to a whole new level, especially in wintertime. Using St-Germain will add a floral sweetness and amplify spirits like Tequila." 
St-Germain, for example, is a key ingredient in one of Burtons' more popular signature cocktails. The Desert Flower ($14) is made with Espolòn Reposado Tequila, Montelobos mezcal, St-Germain, lemon juice, and prickly pear syrup. Rubion notes that liqueurs are used almost exclusively for cocktails. "Still, you will find an occasional customer sipping on Fernet-Branca or Montenegro amaro as an after-dinner digestif, which we love," he adds.
Premium Proposition
While a broad range of premium liqueurs continue to resonate in both the on- and off-premise, some brands have sought further elevation with the launch of super-premium or luxury line extensions. 
Mast-Jägermeister U.S., for example, launched the upscale line extension Jägermeister Manifest in 2018 ($70 a 750-ml.). Manifest is a blend of 56 botanicals and five macerates, and is aged in used American and German oak barrels for over a year. While Jägermeister remains one of the most popular shooter brands in the U.S., Manifest is positioned as a sippable liqueur that can also be incorporated into cocktails like an Old Fashioned. 
Grand Marnier is also exploring the higher end with the launch of an Exceptional Range earlier this year. The first product in the range is a Grand Cuvee called Quintessence ($3,000 a 750-ml.). The luxury bottling is made with the oldest hors d'âge Cognacs that were selected exclusively from Grande Champagne and aged in the personal reserves of the Marnier Lapostolle family cellar. It's packaged in a handmade Baccarat decanter that features a twist in the glass achieved during the glassblowing process. Only 1,000 bottles of Quintessence are being released worldwide this year. Grand Marnier also launched Révélation ($700), an XXO expression made with less Citrus Bigaradia than is traditional in order to spotlight the Cognac flavors in the blend. 
Other brands have made similar moves. New expressions and new flavors are crucial in the liqueurs sector as flavor profiles and spirits popularity constantly evolves. Borgerding describes Giffard as "a 'plays well with others' type of brand" because of its versatility and mixability with a range of spirits. Other liqueurs brands play similar roles, adding nuance, depth, and flavor in the constantly evolving world of cocktails.