Matty Carroll took a deep dive into kegged cocktails earlier this year, and he hasn't looked back since. The beverage director for Colorado-based The Kitchen Restaurant Group began experimenting with batching drinks at his ND StreetBar concept this spring and transitioned to serving all eight of the concept's signature drinks from kegs in May. ND StreetBar has four locations in Colorado, and Carroll says the new batched and kegged cocktail offerings are well received at each one. 
"We think kegged cocktails are perfect for guests who want to spend more time imbibing and socializing with friends than waiting for their drink to be made, so in other words, they're perfect for everyone," Carroll says. "The cocktail category was strong here, but with labor constraints we needed to find a way to add more variety to our cocktail lineup without adding more labor, and a kegged cocktail program was the answer. We made the change to get drinks to our guests faster and to maintain as consistent a product as possible. The reception of the new program has been very positive." 
For Carroll, spirits-heavy drinks work best in big batches for kegs. His venues use 5-gallon stainless steel kegs hooked up to a nitrogen system, and while he says batching takes a lot of prep work, the result makes the time worthwhile. ND StreetBar offers specialties like the Grab the Unicorn by the Horn ($12), an updated Pisco Sour made with Capel Premium pisco, Golden Moon apple jack, lemon juice, and house-made spiced vanilla syrup, batched in a keg and shaken upon order with aquafaba, and garnished with a few drops of Angostura Aromatic bitters. The venues also serve the Tuk Tuk Mojito ($10), which blends Real McCoy 3-year-old rum that's been infused in-house with pineapple, ginger, and Thai chili and then kegged with lime juice and simple syrup. When ordered, bartenders shake the cocktail with fresh basil and top it with club soda. 
"We don't actively promote the kegged system on our menus, but it definitely comes up during conversations with guests, particularly those who sit at the bar and see the keg and tap system," Carroll says. "Our cocktails taste amazing and ultimately, the drinking experience and the deliciousness is most important. I could certainly see some classic cocktail fans perhaps being turned off by the keg system, but in those instances, I would simply encourage them to try one of our drinks."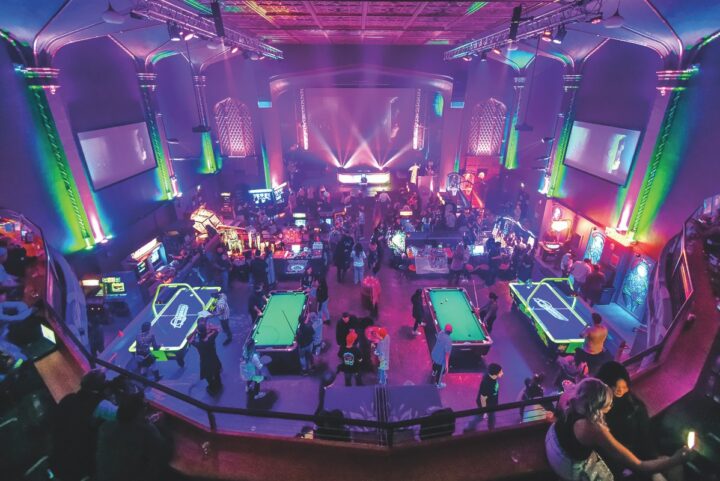 Speedy Service
Loreley Beer Garden in New York City has been batching frozen cocktails and Sangria for many years and added kegged and bottled drinks to the mix in 2019. Owner Doug Jacobson says the need for faster drinks service became apparent during the venue's first Margarita Festival, in 2019, when the bar sold 500 Margaritas in just two hours. "We realized very quickly that we needed a faster solution," Jacobson explains. "As a result, we decided to batch our Espolòn Margarita and serve it on draft. It's listed on the menu as a 'Margarita on draft' and highlighted at the bar with a beautiful Espolòn Tequila tap handle. Batching lets us guarantee consistency in quality, alcohol content, and the exact drink recipe more than if we made each drink to order. And we make each keg fresh daily, so it's the exact same thing." 
The Espolòn Rocks Margarita ($18) is made with Espolòn Blanco Tequila, DeKuyper Triple Sec, lime and lemon juices, and simple syrup, stored in 5-gallon kegs and served over ice in mason jars. Jacobson estimates the kegs hold about 50 Margaritas and the bar usually has a few kegs going at one time. For an upcharge, Loreley offers the option to enhance its signature Margarita with various flavors too, from coconut and strawberry to mango-habanero. In addition to the draft drinks, Loreley also batches and bottles its popular Patrón Pineapple Margarita ($22), made with Patrón Silver Tequila, DeKuyper Triple Sec, lime and lemon juices, and pineapple purée. The drinks are pre-batched and poured into mini bottle-shaped serving cups upon order. 
"We have a rotating seasonal menu, and in order to do drinks at the quality and quantity we need, batching is the most effective way," Jacobson says. "We've had a great response. Our guests love our batched cocktails and think having house-made Margaritas on draft is cool. They're all high-end, premium cocktails that we make fresh daily and serve quickly and efficiently. We go through the batches fast."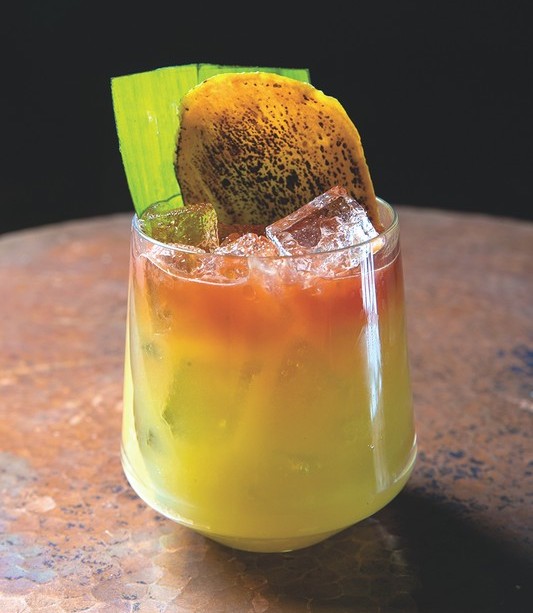 Speed is also key for Nathaniel Hedlund, beverage director at the Sahara Las Vegas resort. The property's Magic Mike Live show highlights three curated cocktails on its menu that are batched and kegged, and Hedlund says batching is a necessity so that guests can order and get their drinks before the show starts. The kegged drinks, which are among the venue's most popular selections, include the Anywhere ($16), blending Appleton Estate Signature Blend rum, Singani 63 brandy, Angostura Aromatic bitters, mango purée, lime juice, and orgeat syrup; the Permission ($17), comprising Casamigos Blanco Tequila, Singani 63 brandy, St-Germain liqueur, lychee syrup, and lime juice; and the Serenade ($16), made with Bacardi Dragonberry rum, Singani 63 brandy, passion fruit-basil syrup, and lemon juice, topped after pouring with a float of Justin Cabernet Sauvignon. The drinks are each stored in 5-gallon kegs, which are kept in a cooler at the bar. 
"We batch them every day so our guests get them fresh," Hedlund says. "Guests appreciate the speed of service and the consistency of the beverage. We don't promote that they're kegged drinks on the menu, but we do offer them in carafes, as well as glasses."
Batched drinks were critical for Knoxville, Tennessee's Brother Wolf aperitivo bar during the height of the Covid-19 pandemic, when the venue switched exclusively to takeout cocktails. During that challenging time, the bar trimmed its normally full cocktail menu down to just a handful of offerings that could be batched and bottled. Now that Brother Wolf is back in full, the venue serves two frozen batched drinks from machines and lists its signature Barrel-Aged Negroni ($11), made with Plantation Dark rum, Carpano Antica Formula vermouth, and Cappelletti aperitivo. The blend is stored in a barrel and poured to order. 
As Brother Wolf prepares for the winter holiday season, however, when it will transition into the Miracle Christmas bar concept, batching will play a much larger role. Brother Wolf has been a Miracle bar partner for five years and will almost exclusively serve batched drinks during the month of December, when volume at the Christmas-themed venue is at an all-time high. Brother Wolf co-owner Jessica King believes that guests enjoy watching bartenders work and build cocktails, but notes that sometimes batching is necessary. "When we batch, it's for scenarios where we know the demand for drinks will drastically outweigh the opportunity to provide made-to-order cocktails quickly enough," she says.
Turn Up The Volume
Fast-paced venues rely on batched drinks all the time. Emporium Arcade Bar debuted in San Francisco five years ago, and its owners knew it would be high-volume from the start, so they created the concept with a draft cocktail program from day one. Emporium Arcade Bar has since expanded into several cities nationwide, and batched drinks are present in most locations. The bars in California and Nevada generally offer four draft cocktails at a time, rotating them seasonally. 
"We want to offer our customers quality craft cocktails at a fast pace, which is the beauty of pre-batched draft cocktails," says Steve Funkhouser, regional general manager for Emporium Arcade Bar's Las Vegas; San Francisco; and Oakland, California locations. "After the craft cocktail revolution, customers demand high-quality, craft drinks, especially in a city like San Francisco, which is known for its amazing cocktail scene. However, at a large interactive venue like Emporium, with an extremely high volume of customers, people also don't want to wait 15 minutes for a drink."
Following the success of draft cocktails at Emporium's San Francisco unit, the company added mixed drink draft lines in Las Vegas; Chicago; and Oakland, California. The draft cocktails are available at the venues' main bar and at its secondary upstairs bar, which is usually only open on weekends. The concept's draft Pineapple Mojito is among its best-selling drinks, and it's joined on the menu by batched specialties like the Hadouken Old Fashioned ($12), made with Kikori Japanese whisky, Roe & Co. Irish whiskey, Yuzuri Yuzu liqueur, Bittercube Bolivar chamomile-jasmine bitters, and house-made lavender syrup, and the NoPaloma ($12), blending Volcán de mi Tierra Blanco Tequila, Giffard Crème de Cassis d'Anjou liqueur, St-Germain liqueur, Top Hat Ruby Go Wild Mix & Paloma Batching concentrate, grapefruit and lime juices, and house-made simple syrup. The drinks are served from 5-gallon kegs and listed on the menus as house-made draft cocktails.
"They're very well received and people appreciate being able to have craft-level quality drinks in a fraction of the time," Funkhouser says. "Most people understand what they are, but occasionally we have to explain it, especially if customers ask to make substitutions. Using quality brands and unique mixers is important so people understand that the drinks are crafted in-house on a larger scale and not something pre-made by a different company. High-quality, interesting garnishes are also important, as they help customers associate the cocktails as hand crafted when they see them." 
Funkhouser adds that he sees draft cocktails being added to menus constantly and that he's been asked by many other bar professionals about Emporium's draft cocktail program. He focuses on spirits-forward drinks for his draft lines and emphasizes house-made syrups, too. On the flip side, Funkhouser cautions against too much citrus in batched drinks and notes that dairy products are also hard to work with. 
However, Deke Dunne has found a way to work milk into his batched cocktail program at Allegory in Washington, D.C. in the form of a clarified milk punch. Dunne, the bar's master mixologist, says batching and pre-mixing has become a way of life at Allegory, noting that he uses some form of batching for every drink on the menu. The bar offers two drinks fully batched—one is stored in 2-liter bottles and poured for guests on order, while the other is bottled, capped, and served in individual soda bottles. The latter, Allegory's take on a clarified milk punch, is the Eden ($18), made with Tanqueray 10 gin; El Dorado 3-year-old, Havana Club Añejo Blanco, and Equiano Afro-Caribbean Light rums; fermented and acid-adjusted orange and mandarin juices; piloncillo sugar; and benzoin resin, all of which is clarified together, force-carbonated, and bottled.
For other drinks, Dunne batches most of the alcohol components ahead of time to speed up service. "When we pre-batch, we weigh everything to ensure accuracy," Dunne explains. "During service, a cocktail that would normally take five or six bottle pulls for ingredients can be reduced to one or two bottles. It saves a lot of time and gives guests an amazing drink." 
At The Jones Assembly, a bar, restaurant, and concert venue in Oklahoma City, bartenders aim to have a maximum of three bottles pulled from the well for any drink they offer, which makes batching crucial. To that end, The Jones Assembly uses some form of batching for more than 20 specialty drinks—pre-blending the spirits for most of them—in addition to offering a handful of kegged cocktails. "Based on our back-bar setup, it was clear from both a spatial and timing standpoint that batching would be our best option," says Scott Marsh, The Jones Assembly's director of operations. He adds that he focuses on batching spirits and adds juices and mixers fresh upon order. 
The Jones Assembly offers drinks like the High Horse ($12), made with its private barrel of High West Double rye, Yellow Chartreuse, and Bols Peach schnapps, which are batched and then blended on order with lemon juice, and house-made peach-thyme-mango syrup. This is joined by on-draft drinks like the Monopolowa vodka-based Moscow Mule on Tap ($9), which is a perennial top-three overall drink seller for the venue, and the Disco Nap ($10), a Margarita riff mixing El Jimador Blanco Tequila, Cointreau, lime juice, and house-made sage simple syrup.
"People are very interested in how we operate our program while maintaining quality and speed throughout," says Marsh. "Our patio bar is all kegged cocktails and it's consistently one of our busiest areas on weekends. Bar programs that want to have volume while also keeping the integrity of their cocktails are using batching to their advantage, and the same goes for high-scale programs that simply don't have the room to list 12 cocktails that need five to six ingredients from bottles per drink. Batching creates the same experience with less time and space. It's universally welcomed from all of our patrons."