In a category that has been slumbering for years in the U.S., the makers of blended Scotch whisky are refreshing their portfolios with new age statements and barrel finishes, as well as exploring creative promotional tie-ins to revive a struggling segment of the Scotch business. Category leader Johnnie Walker has launched myriad expressions with each passing year, and has prospered in the process. Now an increasing number of its rivals are borrowing from that playbook and expanding their offerings. And marketers who were once cautious about pricing above the key $25 a 750-ml. threshold have found that consumers today aren't balking at prices north of $30 for interesting super-premium blends. 
The category's second-largest brand, Dewar's, is a good example. Dewar's White Label ($22 a 750-ml.) is supplemented by premium portfoliomates including 12-year-old ($30), and 15-year-old ($40). Meanwhile, Dewar's Double Double 32-year-old, which is finished in Pedro Ximénez Sherry casks, has sold so well at $150 a 375-ml. that owner Bacardi was forced to allocate supply. Now the company is launching a Double Double 21-year-old in a 750-ml. format priced at $100. This is all on top of a successful partnership with the U.S. Open golf tournament that lead to last year's launch of the annual Champion's Edition 19-year-old Scotch ($80). This year's version is finished in first-fill Bourbon, new virgin American oak, and ex-rye casks.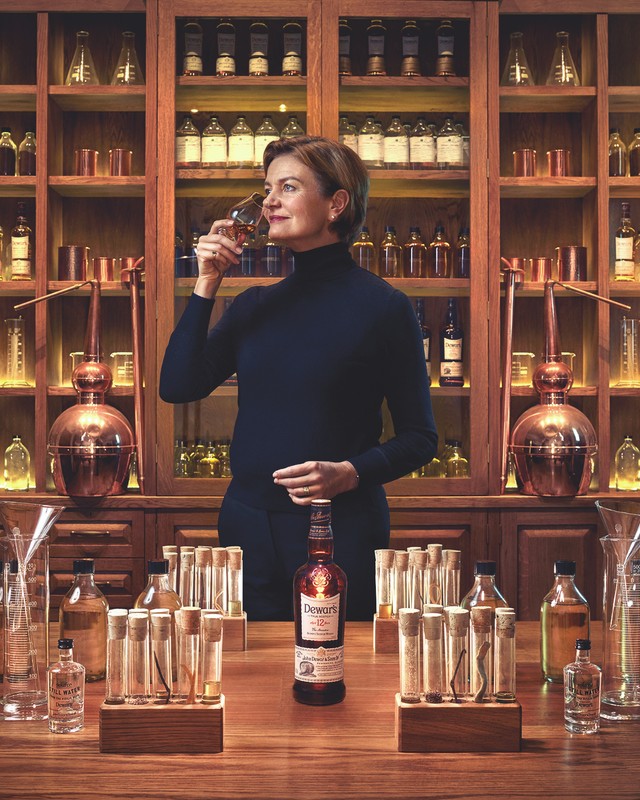 Perhaps a more far-reaching innovation at Dewar's is the recent release of what it calls the "reimagined" Dewar's 12-year-old ($30 a 750-ml.). The new 12-year-old emphasizes first-fill Bourbon casks in the aging process to create a fresh taste profile. It's a move designed to reignite Dewar's presence in the 12-year-old Scotch space, where blended Scotch marketers see an opportunity to deliver significant value compared to single malts, and thus greater sales. The casks are mainly all ex-Bourbon, with the new 12-year-old being finished in first-fill Bourbon casks that give off lots of heady vanilla notes. "At $30, the reimagined Dewar's 12-year-old is at the entry level of the $30-50 segment, a key place in the premiumization ladder—a 12-year-old Scotch whisky is the new normal," says Brian Cox, vice president of Dewar's for North America. "We then see you up to Dewar's 15-year-old as a special occasion and gifting option, and onwards to the 18-year-old as a celebration whisky." 
Cox also sees this pricing tier as important to Scotch's future viability. "Long term, it's important for Scotch whisky to compete not just in the $50-and-above segments—otherwise, Scotch will become a high-end niche product and be challenged by premiumization from other categories," says Cox. "It's important to have a position in every segment where consumers are. That's what we're trying to accomplish."
Dewar's has been innovating elsewhere as well, coming out in recent times with creative extensions such as its cask series ($25 a 750-ml.), which features Caribbean Smooth, finished in rum barrels; Japanese Smooth, finished in Mizunara oak casks; and Portuguese Smooth, finished in Port barrels. This fall will see another addition to the lineup, the French Cask Smooth, which is finished in Calvados casks. 
The message is starting to hit home, as consumers are entering the blended whisk(e)y category at increasingly higher price points. But Dewar's still has a long way to go to stem the tide. Its U.S. volume sank 11% in 2021 to 897,000 9-liter cases, according to Impact Databank, though much of that decline was linked with the strong premiumization strategy. "Like many other businesses last year, we faced issues with glass supplies. We still felt the demand but were not able to supply product fast enough—both for White Label and higher marques—but we have worked hard to resolve these issues," Cox notes. "And as we continue driving momentum for our higher marques, we're seeing double-digit growth and high single-digit growth for White Label."
Other old legacy brands experienced similar hardship last year, like Diageo's J&B, which saw its volume drop 12.5% to just 105,000 cases, ranking it No. 10 among all blends. Bottom shelf Clan MacGregor nosedived 14% to 291,000 cases. Cutty Sark, once the biggest seller in America, has fallen so far that it's now outside the top ten.
Flat Overall Trends
Nevertheless, there are signs that the blended Scotch category overall is stabilizing. The total top ten blended Scotch brands, buoyed by Johnnie Walker's stellar 8% rise to more than 2 million cases, was essentially flat last year at 4.7 million cases, according to Impact Databank. Add in the brands outside the top ten and blended Scotch recorded a total 0.4% loss in 2021, which amounted to a fraction of the declines that blends suffered in other years over the past decade. And 2021's blended Scotch performance seems even better when market pressures like inflation and supply chain problems are considered. Overall Scotch exports in 2021 were below pre-pandemic levels, with shipments down 8% on a value basis when compared with 2019. 
Founded in 1923, Cutty Sark, which is now owned by La Martiniquaise-Bardinet, launched a 12-year-old version earlier this year that's matured in Bourbon and Sherry casks and priced around $27 a 750-ml., well above the core brand's price of $19. Before that, Cutty Sark partnered with Outside TV on a Spirit of Adventure promotion offering free adventure trips to prize winners. Far more is coming from Cutty Sark, according to DeAnna Powell, a brand ambassador for importer Sazerac. Cutty Sark is expanding supply of its 50% abv Prohibition label ($24), and it's taking on a big-deal bottling: a Cutty Sark 33-year-old ($600) set to be released later this year. Thirty-three reflects the middle of the Art Deco era, 1933, when Cutty Sark reached the zenith of its popularity. "The packaging will reflect on the Art Deco influence," Powell says. For the first time, the international standard 700-ml. bottles for spirits are legal in the U.S. Many whisky importers, like Sazerac, say that new packaging in the 700-ml. size could be introduced here soon. "There is discussion going on about it, but there's no decision yet," Powell says. 
But not much compares with the ongoing premiumization efforts at Johnnie Walker. Earlier this year the brand introduced its new Blue Label Year of the Tiger blend ($250 a 750-ml.) in limited supply. It also launched Lunar New Year bottles of several other whiskies, including the King George V and XR 21 ranges. But brand owner Diageo took a new direction earlier this year with the release of a 48-year-old Scotch blended from four ghost Diageo distilleries—Port Dundas, Brora, Glen Albyn, and Glenury Royal. Just seven bottles were offered, at $35,000 each, with corresponding art from Kode Abdo (known as BossLogic). Ordinarily, such a limited release would be parceled out to a few elite whisky retailers around the world and perhaps a high-profile bar or two, but not this time. All seven were sold online on May 31 on the cryptocurrency-based retail site BlockBar. Their hefty price included a visit to Johnnie Walker headquarters and a tour of the Glenkinchie distillery.
Growing Appeal 
Aside from Johnnie Walker, much of the growth in blended Scotch has been seen outside the legacy brands. Monkey Shoulder, imported by William Grant, saw sales jump nearly 11% in 2021 to 115,000 cases, according to Impact Databank. The brand offers only a single blend called Original ($32 a 750-ml.), though it's testing a Smoky Monkey in European markets that could eventually make its way to the U.S. Emily Ivers, Monkey Shoulder's brand marketing director at William Grant, figures Original is priced right. Last year, she notes, sales volume in the premium segment of blended Scotch—priced from $22-$26— was down 9%. But super-premium sales volume, encompassing Scotch priced $30-$45, was up 22%. "Super-premium has been very strong," says Ivers. "As for premium's decline, that will be hard to reverse." She notes that many consumers are now entering the blended Scotch category from American whiskey and single malt Scotch. "People are no longer starting at a value-oriented standard entry point," she adds. 
Ivers notes that many blended Scotches are taking advantage of the marketing done by Johnnie Walker to bring consumers to the category. But she sees a significant angle that hasn't been fully explored yet. "Our Monkey Shoulder has great cocktail capability," she says. "It can be very versatile in cocktails. Our plan going forward is to engage more bartenders and show them that Scotch can be a base spirit in a wide variety of cocktails, from Whisky Sours to Old Fashioneds, and even Piña Coladas. We're encouraging consumers to be much less precious about blended Scotch—use it in cocktails that you love."
There are even opportunities for new entrants into the blended Scotch business. Sassenach Scotch, a limited-batch blend, was introduced 18 months ago by actor Sam Heughan, a Scotch enthusiast who headlines the Starz TV series "Outlander." Sassenach ($100 a 750-ml.) is available in just half a dozen U.S. markets, though it could be in half the country by sometime next year, according to general manager Chrissy Beaudette. Some 9,000 6-pack cases were sold in the U.S. last year, she says, adding that lots more will be available next year, when Heughan plans to do in-person promotions. Sassenach blends a high percentage of single malts aged as much as 12 years, mixed with a 19-year-old organic single grain that supplies a sweet note, and it's finished in Madeira casks. Though it will compete most directly against Johnnie Walker's Blue Label, Beaudette dismisses concerns about the gradual shrinking of the category. "People think you need to get into a category with a new product when the category is on the rise," she says. "But blended Scotch is a very big business, and we are working to just get a piece of it."
In selling at ultra-premium prices, Beaudette gives full credit to the path forged by Johnnie Walker. "Post pandemic, people are drinking less but trading up, and Johnnie Walker has always had a next option ready for them," Beaudette says. "Its marketing always seems so fresh, and the 'Keep Walking' program has been so creative. I like that they don't forget millennials and Generation Z consumers, but constantly engage with them. You don't always see that with other long-running brands."
Another brand testing higher price points has been Compass Box. In the past year the brand has released such variations as its Orchard House ($50 a 750-ml.), Experimental Grain Whisky ($150) and, rarest of all, the Velichor ($450), a whisky inspired by old bookships. Some of these labels are exceedingly limited, as is the case with Compass Box Circle No. 2 ($130), a 46% abv whisky blended primarily from Glen Elgin malts that was released in July with just 3,100 bottles available for the entire American market. 
But while these new high-end bottlings appear to be selling well, the old standbys are also showing life. At Delilah's in Chicago, which offers 1,000 different whiskies on the back bar, owner Mike Miller says Dewar's has gained favor of late with younger customers. "And not some upmarket variant, but plain old White Label Dewar's at $6 a 1-ounce pour," he says. "Young people are actually drinking Dewar's and soda. People want to try new things all the time, and for these young customers Dewar's is new to them."