The leading story of 2020 within the beverage alcohol world was the impact of widespread on-premise shutdowns and the subsequent shift to at-home consumption as a result of the Covid-19 pandemic. Producers of all sizes had to immediately pivot early last year, shifting almost entirely toward marketing off-premise serves and encouraging consumers to create their favorite drinks and explore the world of cocktails from home. 
Roughly one year after the shutdowns began, data—from Impact Databank, Nielsen, NABCA, and other organizations tracking sales and consumption patterns—shows that the wine and spirits world still saw success. While sales patterns shifted and many companies suffered severe losses early on, the industry overall thrived. Categories large and small, ranging from industry fulcrums like vodka to smaller, more on-premise-focused ones like mezcal, found ways to grow as happy hour moved from bars to living rooms. 
While many embraced the home consumption move as a chance to bump up their cocktail-making skills, another trend accelerated during the worst of 2020: spirits-based pre-packaged cocktails. After rising by 21.5% in 2019, the segment jumped nearly 50% in 2020, to just under 13 million cases, according to Impact Databank. Category volume more than doubled since 2016, driven by new entrants to the market and a massive increase in consumer interest. Marketers within the industry attribute this to the on-premise shutdowns removing traditional cocktail occasions, as well as to consumers trading up from malt-based seltzers to some of the newer Vodka Soda-style drinks on the market today. 
"The consumer is figuring out that a quality base spirit makes for a great canned cocktail, and they're experimenting with brands they know and love already," says Sandra Spalding, market director at Texas-based Twin Liquors, which stocks 60-70 SKUs of canned cocktails. "High Noon Sun Sips and the new Crown Royal cans are very popular," she adds, noting that interest has grown across the board for the category. 
Retailers throughout the U.S. note that pre-packaged cocktails have broad appeal across demographics. Volumes were up 86% to 9.15 million cases in Nielsen channels in the 52-week period ending December 26, 2020. Canned and premixed cocktails offer simple ways to serve drinks and provide a variety of flavor profiles, ranging from traditional cocktails like the Margarita and the Old Fashioned to fruit-spiked extensions like a Watermelon Vodka Soda. "Premixed cocktails appeal to many demographics, from a customer seeking portability and low calories to someone seeking the simplicity and ease of opening and pouring a drink rather than buying, mixing, and measuring ingredients to a customer looking to try something new with a lower cost commitment," says Pennsylvania Liquor Control Board (PLCB) chairman Tim Holden. The PLCB stocks roughly 181 pre-packaged cocktail SKUs, compared to 95 SKUs in 2018.
Popular Newcomers
The early successes seen by a handful of new brands—plus the continued solid performance for premixed mainstays like Margaritas—have made the category a must for spirits producers. Pernod Ricard, Bacardi, Brown-Forman, and Diageo have all entered the segment in recent years, offering extensions to their flagship spirits brands aimed at expanding the scenarios in which consumers consider spirits, a category with fewer typical drinking occasions than beer and, in recent years, wine. 
In 2020, the leading spirits-based canned or premixed cocktail in the U.S. was E. & J. Distillers' High Noon Sun Sips. The drink offers a more upscale alternative to malt-based seltzers, emulating the successes of brands like White Claw and Truly but made with vodka and fruit juice. The brand reached 2.95 million cases last year, according to Impact Databank, adding over 2.2 million cases over 2019, when it debuted. The 4.5% abv cocktails come in six flavors, each containing 100 calories a 12-ounce serving, placing them right in line with their malt-based competition. "We consider High Noon to be competing in the hard seltzer category, against its malt competitors. Within malt competitors, we see about a 20% repeat rate among consumers, while High Noon's repeat rate in IRI channels was about 33% last year," says E. &. J. Gallo head of spirits Britt West. "That's also what gives us great confidence going into 2021 of what the true potential is for the brand." 
Despite the brand's incredible success so far, West adds that the launch could've been even stronger, especially in its early days. High Noon, like many in this story and throughout the industry, has faced can shortages that have made consistent supply a challenge. "We were sourcing globally in order to meet demand," he says. "For 2021, we've shored up a bunch of contracts that we feel solid about to allow for exponential growth."
West also touches on one of the challenges that all spirits-based cocktail marketers face: legal restrictions. "We accepted the fact that ultimately we would be constrained on where we could go and sell," he says. "But it was still a sizable enough business. If you look at what that category [hard seltzer] is doing today at 300 million cases, it's bigger than the entire spirits industry in 9-liter cases. Even a small piece of that business is still a very big business." 
Packaging also matters. "While the bestselling RTD individual items are traditional-size bottles of ready-to-serve cocktails, the popularity of RTDs in cans is also on the rise, as evidenced by High Noon's sales growth to $4.4 million in 2020, a 437.99% increase over the prior year," says the PLCB's Holden. He adds that by dollar sales, High Noon is second only to Jose Cuervo Authentic Margarita in Pennsylvania's Fine Wine & Good Spirits stores. 
In addition to unlocking the market for more premium ingredients, the current crop of leading premixed cocktails sells at a price point similar to craft beers. The average price-per-case for spirits-based cocktails is over $80, according to Impact Databank, more than double the average malt-based brand, which comes in closer to $35. "Consumers want to take spirits-based products to places where they used to drink beer," says West.
Other Favorites
Just behind High Noon in second place overall in the U.S. is Proximo Spirits' Jose Cuervo Authentic Margarita at 2.8 million cases for 2020. Though traditionally sold in bottles, Proximo and Cuervo are the pioneers in the spirits-based premixed cocktail category, having crossed the million-case mark more than a decade ago. Behind the Authentic Margarita is its portfoliomate, the 100% blue agave Tequila-based RTD 1800 Ultimate Margarita. The portfolio was up 62.8% last year 973,000 cases and, if 2021 is even half as successful as the previous year, will easily cross 1 million cases, possibly approaching 1.5 million, if 2020's success repeats. 
With Jose Cuervo Authentic Margarita leading the way, Proximo is one of the leading producers of spirits-based RTDs. In 2020, the company had three leading labels and one up-and-coming brand, all offering consumers a variety of traditional and flavored takes on Tequila cocktails, particularly the Margarita. While Proximo's premixed cocktails mainly stick to variations on the Margarita, the company is also jumping on rising trends. Last year it launched Playamar, a spirits-based seltzer made with Jose Cuervo ($12 a 4-pack of 12-ounce cans). Playamar sold about 19,000 cases in its 2020 debut, according to Impact Databank. The release is aimed directly at hard seltzer consumers looking for a more upscale product: It's low-calorie at just 90 calories a serving and comes in familiar flavors like Grapefruit, Lime, Mango, and Black Cherry but, the company notes, has enough Tequila flavor to set it apart from its malt-based competition. 
While Proximo and E. & J. Distillers are the current leaders for spirits-based premixed cocktails among the major markets in the U.S., their competition is eager to capture market share. Bacardi currently has a leading brand with Bacardi Party Drinks—222,000 cases, up 35% for 2020—and the company is looking to the future too. Recently, it introduced Bacardi Real Rum RTD cocktails. It sees the product as a way to introduce people to the rum category, says Bacardi North America president Pete Carr, adding that the company is exploring new offerings across the portfolio. 
The RTDs split the difference between the hard seltzer and the more traditional canned cocktail world. One of the three launch flavors, Lime and Soda, is similar to a hard seltzer while the other two, Rum Punch and Limón and Lemonade, offer consumers more traditional cocktail offerings. "Just like with most categories within spirits, people are going to be looking for more and more premium products as the segment evolves," says global senior vice president of Bacardi rum Ned Duggan. "The segment has been known as primarily malt-based, which is more affordable, but more spirit-based cocktails are coming into the market and we'll see a natural trade-up for some of those malt-based RTD drinkers." 
Similarly to Bacardi and Proximo, others have jumped into the burgeoning market. Brown-Forman launched whiskey-based Jack Daniel's canned cocktails in 14 states last year, Diageo recently introduced Ketel One Botanical Spritz canned cocktails, and Constellation-owned Svedka has also entered the space. Retailers say that this sort of expansion is often beneficial, as consumers are more likely to try a brand they trust. "Connection to a reputable brand is great, but first and foremost Twin Liquors looks for quality and value," says Twin Liquors' Spalding. "Great flavors like Black Cherry, Lime, and Watermelon in the 4-pack size for about a $10 retail is the sweet spot." 
Pernod Ricard has also widely embraced the premixed and canned cocktail boom, entering the category with Absolut, Kahlúa, and Malibu. The company's philosophy when creating its spirits-based RTDs, according to vice president of millennial connector brands Regan Clarke, is to give consumers the best of their spirits flavors in a convenient and accessible package. The largest of the three, as far as spirits-based cocktails are concerned, is the vodka-based Absolut Cans, which offers six varieties in its Vodka Soda and Cocktail lines and is aimed at calorie-conscious consumers who want an easy-to-serve cocktail. The release reached 149,000 cases last year in its first year on the market. "We see an incredible opportunity to add premiumization to the RTD category by leveraging our spirits portfolio," says Clarke. "Last year alone, we launched four RTD innovations: Absolut Vodka Sodas, Absolut Cocktails, Malibu Splash, and Kahlúa Nitro Cold Brew. We're experiencing strong sales for these brands at national and regional grocery stores throughout the U.S." 
A growing love of coffee among consumers is also driving growth for Pernod Ricard. "As we look at the evolution of Kahlúa's RTD portfolio, we know consumers love coffee culture and coffee cocktails, prefer daytime drinking occasions, and desire convenience," Clarke says. "We saw a great opportunity to meet consumers' demand for coffee-infused, bar-quality cocktails through our Kahlúa Espresso Martini and Nitro Cold Brew RTDs." Last year, Kahlúa's Espresso Martini reached 8,000 cases, down 6%, according to Impact Databank.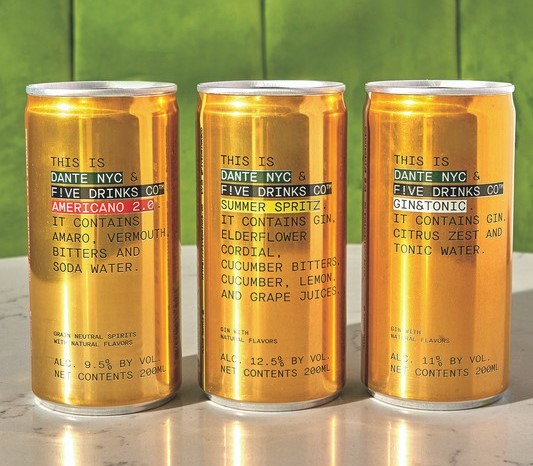 Beer Joins In
Beyond the spirits world, major breweries are jumping in to premixed cocktail market, investing in established independent and nascent brands alike. Anheuser-Busch InBev (A-B InBev) has led the way, acquiring San Diego's Cutwater Spirits in February 2019. Last year, Cutwater more than doubled its volume, surpassing 700,000 cases. At West Coast chain BevMo, which stocks roughly 100 canned cocktail SKUs, Cutwater is the leading seller in the segment, according to category lead for spirits and more Jeff Feist. The brand has a vast portfolio, offering roughly 20 cocktails using its own house-distilled spirits. The canned cocktail label aired its first Super Bowl ad during this year's big game and has received a wider marketing push as well, recently launching a new campaign featuring a social media series starring Emily Hampshire, known for her work on Schitt's Creek. 
While Cutwater has been A-B InBev's major buy in the canned cocktails space, the company has also invested in smaller brands like Five Drinks Co., which launched last year. Led by former A-B InBev executive Felipe Szpigel, Five offers a range of classic and new cocktails served in 200-ml. cans. The brand's releases hover around 9% abv and list the ingredients on the front of the can. So far, Five's Mojito, Margarita, Moscow Mule, and Paloma have found early success, and Szpigel says the minimalist label and smaller serving size has helped the brand stand out on store shelves. 
"We want drinks that our consumers already know but somehow they have a complexity that they can't easily replicate at home," says Szpigel. He pointed to the brand's Moscow Mule as an example of that philosophy. In addition to the classic ingredients needed to make the cocktail—vodka, lime juice, ginger beer—Five's Mule adds tamarind to give the drink a little more complexity and give consumers a reason to specifically reach for Five's take on the bar classic. This carries over to Five's other classics too. For instance, the Margarita has added hibiscus and habanero agave nectar to help it stand out in a crowded category.
Craft Offerings
Though the current leader among canned, spirits-based cocktails is backed by a major distilling company, the market is still wide open for newer, more independent brands to make an impact. One of the leading producers in the category in the U.S. is Fishers Island Lemonade, which produces a single vodka- and whiskey-based SKU and has reached over 100,000 cases in only its second year of wide distribution. 
The brand is currently available in ten states and performs best along the Northeast coastline, close to where it was created. In addition to strong regional sales, Fishers Island Lemonade has found great success on Drizly, where it was in the top three RTD cocktails in 2020. "I created Fishers Island Lemonade based off the signature spiked lemonade cocktail served at the Pequot Inn for decades on Fishers Island, New York, which my family owned and operated," says founder and CEO Bronya Shillo. "We have always taken the approach of mile deep and inch wide—which has served us well—focusing on quality and delivering on our expectations to be the best." 
Another regional upstart making a mark in the category is Portland, Oregon's Freeland Spirits. While the company produces its own gins and whiskies, it has also entered the canned cocktail market with a take on the Gin and Tonic and the French 75. Last year, according to founder Jill Kuehler, the distillery's canned cocktails were up 80%, growth she attributes to consumers looking for simple ways to enjoy quality cocktails at home. 
Freeland entered the market with a twist on a classic—a Gin and Rose Tonic—before adding one of Kuehler's favorite drinks, the French 75. "Our company is about celebration. It's a big ethos that we have, and I think the French 75 as a cocktail really represents that," she says. "One of my good friends is the head wine maker at Chehalem Winery, Katie Centura. We'd always wanted to collaborate on something and this was a great way. So we used their Chardonnay with our original Freeland gin, added some lemon, a little bit of simple syrup, and then carbonated the whole thing."
Though a relative newcomer to the category, Atomic Brands' Monaco canned cocktails quickly took off last year, reaching over 1.5 million cases in only its second year on the market. The brand debuted in 2019 with just over 1 million cases and grew another 37% in 2020 to become the third-largest spirits-based premixed cocktail in the country. The company's portfolio is vast, offering a variety of fruit-flavored vodka-based drinks, as well as Moscow and Kentucky Mules, and flavored Vodka Sodas.
Prestige Beverage Group's Joia is another strong newcomer to the market. The brand debuted in 2019 and reached 121,000 cases in its second year on the market. The brand began life as a producer of craft sodas before expanding into non-alcoholic mixers and, finally, spirits-based RTDs that bring the whole family of flavors together. Joia's core lineup consists of sparkling Cosmopolitans, Greyhounds, and Moscow Mules, and the brand also offers low-sugar cocktails including a Vodka Soda and a sparkling Gimlet and Margarita. "The canned cocktail market is exploding alongside the exponential growth of hard seltzers. We're beginning to see the migration of consumers away from seltzers to spirits-based canned cocktails," says brand manager Jeannie Farley. "We're the first spirits product to put our full ingredient list on our packaging so that everyone can see exactly what's in the can. We also have a serving facts panel on our low-sugar varieties." 
Though the canned and premixed cocktail market has undoubtedly seen a boost because of the Covid-19 on-premise closures, marketers and retailers alike believe that the category will remain vital even after life returns to normal. High Noon's West says that the pace of innovation and the convenience of the category will help it to stand on its own even after bars reopen. 
PLCB chairman Holden is similarly optimistic about the category's future after Covid-19. "Because bars and restaurants are still subject to restrictions and some people remain disinclined to eat and drink out, we believe sales of RTDs will continue to grow at levels higher than pre-pandemic for some time," he says. "Longer-term, as consumers realize the cost savings associated with retail sales as compared to on-premise consumption, the new normal may include more at-home consumption."