In the third installment of the "Somm" documentary film series, a wine retailer dusts bottles in his shop and quips about the glamour of retail. It's a comic moment in a serious telling of wine's history and future, and Verve Wine co-founder Dustin Wilson steals the show.
Wilson started working in restaurants at age 15 and was mentored by the likes of Bobby Stuckey at Frasca in Boulder, Colorado and Rajat Parr at RN74 in San Francisco. He earned his Master Sommelier credentials—very publicly—in the first Somm documentary in 2013, and then became wine director at Eleven Madison Park in New York. Soon, restaurant guests began recognizing him from the films. Without meaning to do so, Wilson had become famous.
Then he met Derrick Mize, co-founder of a shop called New York Vintners, and they began to envision a new kind of store. "We talked about the retail landscape, creating an attractive space with great wines, a satisfying experience for guests, and e-commerce," Wilson says. "I noticed the younger generation getting into wine, and realized the power of that segment. I saw room for something interesting and different in the retail space." Wilson and Mize first launched Verve Wine in New York's Tribeca neighborhood and online in December 2016; the pair opened a second location in San Francisco's Pacific Heights neighborhood in July 2018. A team of 16 people runs the entire operation.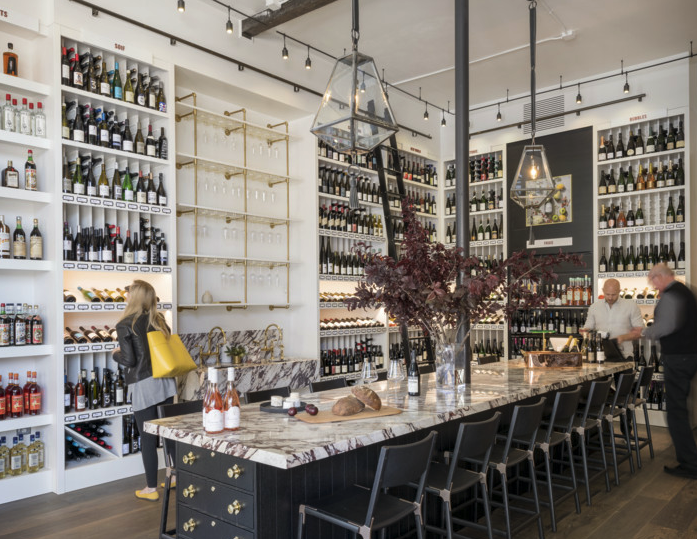 Both stores benefit from pedestrian traffic. "We opened stores in neighborhoods with robust restaurant and wine communities," says Wilson. The Tribeca location measures 1,300 square feet and has 1,300 SKUs (1,250 wines and 50 spirits), while the Pacific Heights store comes in at 1,000 square feet and stocks 900 SKUs (875 wines and 25 spirits). Both units have off-site storage. The spaces look contemporary, yet feel welcoming rather than stark.
Each store has a communal table—marble in San Francisco and wood in New York—which represents Wilson's mission of hospitality and community. "I want lots of people to try awesome wines, so that's what we do here," he says. "The latest film put our New York store on the sightseeing list for travelers focused on wine and food, and they recognize the table from the movie." Wilson describes Verve's selection as curated, but feels three other aspects are more important in differentiating the company: uncluttered interiors, tasting events to grow a community around wine, and e-commerce built into the company's business model.
Verve's website carries about 1,500 SKUs. Wilson says online shoppers spend more per bottle than in-store customers, with two distinct sweet spots: $30-$75 and more than $125. The company ships to about 40 states, and delivers in San Francisco and New York City. "Shipped orders represent about 10% of our overall business, and we intend to grow this segment as a scalable component of our business model," Wilson says. They want the web experience to parallel shopping at the stores: an attractive space, lots of information, and seamless payment. The website offers unique ways to browse: Dustin's Recs (Wilson's recommendations), food pairings, seasonal wines, and movie night wines. "We try to make the website thoughtful," Wilson says. "When people leave our stores or website, we want them to feel happy and well cared for."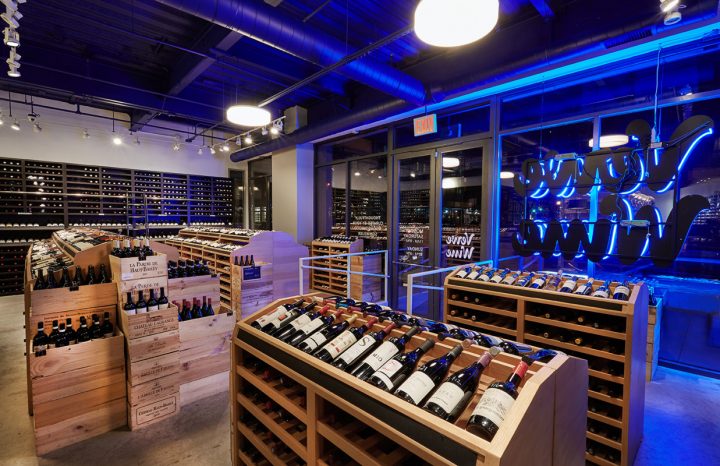 Worldly Wine
Wine comprises 90% of sales at Verve, with 1,350 SKUs ranging from the 2018 Les Deux Moulins Loire Valley Sauvignon Blanc ($14 a 750-ml.) to the 2009 Domaine de la Romanée-Conti la Tâche Grand Cru ($4,650). Wilson and Mize seek out small producers of terroir-driven wines who employ sustainable practices and minimal intervention in the cellar. "These winemakers represent their place in the world and the grape varieties they're working with," Wilson says. "For these reasons, our prices aren't those of a grab-and-go liquor store. Our core demographic is the younger wine drinker who's excited about wine and more engaged with wine than with spirits." Because the selection constantly rotates, there are no clear top wine SKUs. "Most of the wineries we work with are small, so we turn over our wines quickly," Wilson adds. "We inevitably sell through and have to fill those slots with something different."
Loire Valley whites, Beaujolais, and California Pinot Noir are the top wine categories by volume, though they don't represent the highest revenue. The store's 40 Loire SKUs, including the 2016 Brendan Stater-West Saumur Les Chapaudaises Blanc ($44 a 750-ml.) and 2016 Domaine S. Bernaudeau Les Onglés ($63), sell quickly and are soon replaced. Verve stocks 25 Beaujolais SKUs from as many of the region's crus as possible, like the 2017 Pierre Cotton Côte de Brouilly ($40) and the 2017 Guy Breton Beaujolais-Villages Marylou ($26). The store specializes in hard-to-find Pinot Noir from California, with 28 SKUs in total. "Our customers want the progressive, new-wave, cool-kid Pinot Noir from California," says Wilson. Rajat Parr's 2014 Domaine de la Côte Bloom's Field Santa Rita Hills Pinot Noir ($79) sold out after performing remarkably well in blind tastings in Somm 3. Wilson says Pinot Noir from Jolie-Laide, Pax, Sandhi, and Presqu'ile sell out quickly, including the 2016 Sandhi Santa Rita Hills ($38) and the 2015 Santa Maria Valley Presqu'ile Vineyard ($59).
Rare and allocated wines are profit drivers at Verve, but there are no clear top-sellers as sometimes the store's allocation is as few as two bottles. Wilson lists Verve's strengths as Champagne, Burgundy, Piedmont, and the Rhône. Verve has 75 Champagne SKUs, including the 2011 Pierre Peters L'Etonnant Monsieur Victor Blanc de Blancs Grand Cru ($300 a 750-ml.) and the 2010 Agrapart & Fils Venus Blanc de Blancs Extra Brut ($215). There are 200 Burgundy SKUs, and the Burgundy display at the New York store is striking—a wall of bottles, with the top shelves accessible by a sliding library ladder. Although the Burgundy selection rotates quickly, Verve nearly always has selections from Domaine Jean-Marc Roulot, Domaine Marquis d'Angerville, and Chanterêves. Examples include the 2015 Domaine Roulot Chevalier-Montrachet Grand Cru ($2,799 a 1.5-liter), the 2015 Domaine Marquis d'Angerville Volnay 1er Cru Clos des Ducs ($239 a 750-ml.), and the 2017 Chanterêves Nuits-Saint-Georges 1er Cru Les Damodes ($142). Wilson enjoys turning customers on to approachably priced Burgundies like the 2016 Domaine Eleni et Edouard Vocoret Le Bas de Chapelot Chablis ($38) and the 2017 Domaine de la Cras Marc Soyard Côteaux de Dijon Rouge ($39).
Verve also has an impressive selection of 50 Rhône SKUs, including the 2016 Domaine Jean-Louis Chave Hermitage Blanc ($338 a 750-ml), and the 2015 Domaine Jamet Côte-Rôtie ($249). The store has 65 SKUs from Piedmont, including collectibles like the 2008 Giacomo Conterno Monfortino Riserva Barolo ($1,750), the 2001 Bruno Giacosa Le Rocche del Falletto Riserva Barolo ($895), and the 2013 Roagna Asili Vecchie Viti Barbaresco ($240).
Pre-arrival wines—bottled offerings that haven't yet shipped—make up a small segment of Verve's business. Wilson points out that from an operations standpoint, pre-arrivals are less labor-intensive than stocking shelves. He informs customers about the wines via email and the website. Wilson recently received six bottles of the 2016 Thierry Allemand Cornas Chaillot ($257 a 750-ml.) and shipped them out the same day. "Our customers jump on pre-arrivals and don't mind waiting to receive them, because they're rarer wines and the prices are good," he says.
Wilson is always looking for opportunities to connect and share lesser-known wines with customers. One way he does this is through Verve's monthly wine subscription, The Grand Tour ($95 for four 750-ml. bottles). "We curate a selection of four wines that represent their place and over-deliver for the price," Wilson says. A recent box called Backwater France contained the 2017 Domaine Chiroulet Terres Blanches Côtes de Gascogne Blanc, the 2016 Domaine des Ardoisières Vin des Allobroges Argile Rouge, the 2015 Domaine d'Aupilhac Cuvée Aupilhac Montpeyroux, and the 2016 Clos la Coutale Cahors.
Verve offers wine flights and cheese plates at the San Francisco store, permitted under California law. Flights include 2-ounce pours of three wines for $20 or $25, and the five food menu items range from $5-$18. A recent flight of wines from southern France ($25) included the 2017 Clos Ste. Magdeleine Cassis Blanc, the 2017 Clos Canarelli Corse Figari rosé, and the 2016 Maxime Magnon Campagnès Corbières. The staff recommended a plate featuring Cowgirl Creamery's Red Hawk cheese ($15) as an accompaniment.
Esteemed Spirits
Spirits make up 8% of sales at Verve, with 150 SKUs ranging from Helix vodka ($27 a 1-liter) to the 2018 U.S. edition of Chichibu Ichiro's Malt single malt whisky ($995 a 750-ml.). "We curate selection of smaller-production spirits," says Wilson. Two exceptions stand out at the New York store: The Macallan 12- and 18-year-old single malt Scotch whiskies ($72 a 750-ml.). Although there are no clear top-selling spirits, Wilson says whisk(e)y dominates by a large margin with 77 SKUs. Two popular bottlings include Pinhook Country Cask-Strength Straight Bourbon ($69), and Matsui Shuzo Kurayoshi 12-year-old malt whisky ($99).
Tequila and other agave-based spirits are an up-and-coming category with 28 SKUs. Verve concentrates on small-batch, environmentally friendly brands, some of them made from wild-harvested agave. Two popular selections include 123 Tequila Blanco ($50 a 750-ml.) and El Jolgorio Tobaziche mezcal ($174). The San Francisco store carries one beer, Reissdorf Kölsch ($6 a 500-ml. bottle). "We keep it around because it's what we like to drink after work," says Wilson.
When Wilson talks about building a community engaged with wine, he means beyond the stores' neighborhoods. "We have a blog, a website, e-commerce, and this ability to interact with people through wine," Wilson says. "I envision showcasing these wines for a broader audience." He says the company's core customer base is very engaged on social media, particularly Instagram, so he connects with them there. He also reaches them via email blasts; Verve's email list is segmented by location and level of engagement.
Verve also links with customers through in-store tasting events—twice a week for wine and a few times a year for spirits. While some tastings are free, most are priced at $10-$30, and some in San Francisco are higher. "We try to be super inclusive, and my favorite events are when we have 50-60 people at the shop who all look totally different," says Wilson. While most events are a walk-around format, others are themed seminars led by Verve team members or guest speakers. "We've done everything from taco pairings to the villages of Burgundy," Wilson says. "The value of tastings goes beyond that of a sales tool, so we don't think of them in transactional terms. Tastings build community, and are a powerful branding and marketing element."
Wilson envisages a wine community that extends beyond the stores' neighborhoods. Verve donates personalized wine-tasting events and 6-month Grand Tour subscriptions to school auctions in New York and San Francisco, but his goal is to extend the company's reach even further. Along with Thomas Pastuszak, wine director at New York's NoMad Hotel, Wilson co-founded Reboule du Rhône, an autumn weekend of Northern Rhône tastings and dinners benefiting No Kid Hungry, a national campaign run by nonprofit Share Our Strength that works to end childhood hunger and poverty. The event has raised more than $500,000 for the campaign.
Wilson says he and Mize intend to grow the stores in their current locations and increase online sales and wine club membership. They plan to open a third location in Chicago's Lincoln Park neighborhood next spring. "At 3,600 square feet, it'll be our biggest store, and the fun part is that we can have a retail store and a wine bar in the same space," says Wilson. Selecting and procuring wine and spirits are second nature to Wilson, giving him the flexibility to concentrate on other aspects of the business. "We're getting positive feedback on building community, creating an environment where people connect with wine, and providing a great experience," says Wilson. "That's where we're seeing success, so I want to focus more energy and time there."